Why Roomware Solutions?
In recent years there has been a dynamic shift towards using technology in the workplace. TeamMate has over 20 years experience in the Audio Visual and Information Technology sector and has used this to develop a range of technology enabled furniture to cater for this cultural shift.
Typically you might associate TeamMate with standalone solutions such as a lectern or a mobile trolley in a room with other disconnected furniture solutions added as an afterthought. It was therefore apparent there was a need for furniture that bridged the gap between traditional and technical furniture solutions of old.
TeamMate Roomware Solutions goes further than just your typical mobile or static unit. TeamMate is now a one stop provider of audio visual solutions for corporate, education and specialist sectors with the aim of maximising your space potential.
Maximising your space potential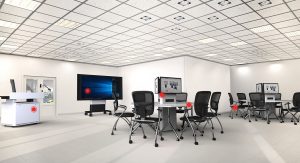 Not everyone can make it to a showroom or visit one of our installations right?!
Throughout our new website TeamMate has made it easy to experience our designs and innovations by enabling you to immerse yourselves in the story of each product without having to be in front of it: From the 360° spin, engaging with the video of the product and its side ranges, or perhaps the clear key features and the finer technical details.
There are four distinct product categories that we have split our products into which can help narrow down and simplify your search for the ideal solution. Collaboration Furniture, Large Screen Stands, Carts & Dividers, Lecterns, Podiums & Teaching Desks and finally Workspace Tables & Soft Seating. On top of this, TeamMate can work with you to research and develop cutting edge bespoke furniture solutions through our creative team of design engineers.
TeamMate's NEW Spaces section is a go to visual experience enabling you to see a variety of our Roomware Solutions all in one place. Each space offers a different set of specialist flexible furniture solutions which can be used to maximize its potential.  Spaces include a traditional Seminar Room, Flexible Classroom, Boardroom, Retail Space & Active Learning Teaching/ Training Rooms.