Navigating through these unusual times is hard. Particularly those in the higher education sphere that will be starting their university careers this September. Social distancing will likely be required if and when libraries, lecture theatres, and seminar space facilities are again open. On the contrary virtual learning will definitely be required to begin with and may even be the new norm moving forward.
Virtual Classrooms:
A virtual classroom is an online learning environment that allows live interaction between lectures/tutors using videoconferencing for real-time collaboration. Depending on the software used, students may be working remotely at home or on campus and are able to see in real-time their lecturer, ask them questions, or even share their work.
These virtual classrooms aren't however fully virtual, there will need to be a physical space whereby a lecturer or tutor can go-to present. He or she will need to present from a podium and he or she will need to be able to see all virtual students clearly. TeamMate has several products designed to cut through this new virtual landscape giving lecturers a platform to present and viewers a pedestal to be seen and heard.
TeamMate's Solus Virtual Lectern (launching soon) is a standalone podium designed for the virtual landscape. Its most striking feature is a sunken viewing screen overlayed by glass, enabling clear sightlines to engage with every virtual person. It is that interaction and relationship between students and lecturer that will be hard to replicate in a virtual world, but designing little details like this, will help go a long way.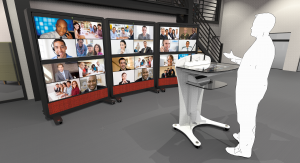 To enable this interaction in a virtual landscape to take place, TeamMate has designed the Virtual Wall (featured above). A modular, mobile system that can accommodate dual vertical screens, with multiple walls being added to create an entire classroom or seminar space. The design is fully mobile so it can be set up in different rooms, to create ad-hoc classrooms, or even into flexible office workplaces.
Virtual/Physical Collaboration Spaces
Virtual classrooms, however important they are, will never fully take away the physical space completely. With Universities being centers of research, development, study, and connection building, these metropolises will not go fully virtual.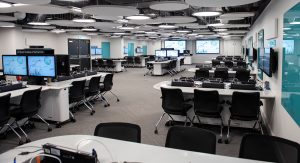 A blended flexible approach will be more likely with spaces being designed to cater for active collaboration, whilst adhering to virtual learning as well. TeamMate has experience with helping to design such rooms through working with London Business School (see the case study here). These rooms are able to broadcast the sessions live to the virtual space whilst still actively using the room for seminars. LBS's active learning classroom can be used in two different configurations. In classroom mode, the lecturer runs the session for the entire room and can push digital content out to the left, right, or both screens at all student stations in the room. In student mode, students can collaborate locally, using the workstations independently of the main teaching station. TeamMate designed several bespoke workstations which housed LBS's laptop requirements in a fully flexible solution.
A Flexible Approach:
A balanced flexible approach may seem to be the most logical way forward, with rooms dedicated to fully virtual lessons with integrated audio-visual furniture like Solus and Virtual Wall helping aid the delivery of sessions. In addition to flexible collaboration spaces that can provide broadcasting capabilities if needed.  This is not to say the future may be without seminar rooms and lecture theatres, because they will never disappear, but short term social distancing may inhibit their full capabilities so a  broader range of rooms may be required.
TeamMate has become experts in designing, manufacturing and installing state of the art customer lead designs. If you require help planning or designing your virtual classroom or meeting space, do contact us and we can arrange a consultation via phone, email, or Zoom Call.