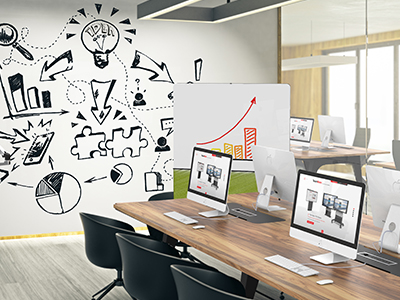 Background
Traditionally office employees spend most of their working day at their fixed workstations or for higher education institutions, sat in fixed rows and aisles looking forward for some inspiration from a lecturer.
It is with the rise of generations like Millennials and Generation Z and their familiarisation with the latest technologies, that has set the pace for the need to evolve spaces. Spaces are changing both in the workplace and in higher education. They are becoming more flexible, sharing the spaces with other departments and businesses. Technology has played a huge part, with BOYD becoming more common causing pedagogical practices to change with each session.
For a space to evolve with the different demands, the furniture needs to keep up with both the technology and the flexibility demanded of the space.
The problem
Technology enabled furniture plays a key role in facilitating the modern demands of spaces. Each solution needs to be both functional and contemporary.
Lets start with functional. Simply put; designed to be practical. In the case of technology enabled furniture, practical means it needs to be secure, accessible, mobile and compliant. As a result, normally these features would take away the aesthetics of a product, ensuring that these features standout over the look and feel. That is where TeamMate differs from competitors.
Modern spaces require furniture that not only has to be functional but it also has to fit the aesthetics of the room. It is finding the balance between functionality and contemporary look and feel of a product. Contemporary furniture like the TeamMate Evolve Mobile Screen Divider really highlights how contemporary solutions can be practical at the same time.
The Solution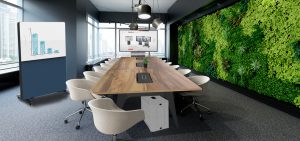 The Evolve has been developed in accordance with the latest trends in the workplace. With spaces becoming far more flexible, the need for mobile furniture has become increasingly more common.
Evolve can adapt to the demands of each space it is located in. It's configurable panels are finished with sound absorbing fabrics from leading suppliers allowing a soften look. One moment Evolve can be used to divide up spaces in breakout areas, enabling small meetings to take place with added privacy. The next, Evolve's screen could be used as a focal point where users can bring their own divides (BOYD) to share their work. A whiteboard can also be added if users prefer writing as a way to share ideas.
The specifics
Evolve starts as a blank canvas, both on the outside and inside. You can configure which panels you want, whether its a screen, a whiteboard or plane fabric panel. You can also customise what colour fabrics and then add any accessories you may require. On the inside, choices of technology are simply user preference. The added functionality of the Evolve enables seamless integration when needed.
To enable the Evolve to be fully functional, each panel is secured in place via a sliding lock mechanism. Integrators and users alike can then gain quick access when installing a screen or any technologies.
See below for some key features that enables Evolve to maximise a spaces' potential: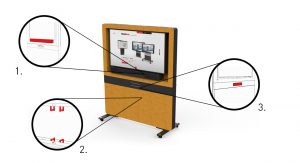 Evolve has several accessories to suit your requirements including a sound bar bracket which can be positioned above or below the screen. If you are worries about whether a particular soundbar will fit? Do not worry. Our design engineers can check for you and even come up with a solution.
Sliding the bottom panels reveals a lock which once opened enables users to remove the bottom panels of the Evolve. With the 2U 19″ rack mounting kit, you can securely store any AV equipment within.
The central connectivity module can be customised with cut outs for control panels and power bar modules enabling you to control and connect your devises.
For more information you can watch the Evolve video here. 
View the Evolve: https://teammateworld.com/products/evolve/
Email us: info@teammateworld.com
Call us: +44 (0)1491 825739